GTC Trailblazer Chairman, David Croxton, sadly passes away
We regret to inform you that David Croxton, GTC Trailblazer Chairman 2013 - 2020 and father of BIGGA CEO, Jim Croxton, has sadly passed away.
Having held a number of positions within golf organisations, David struck up a long and strong relationship with the GTC and represented the English Golf Union (now England Golf) on the GTC Board of Directors between 2005 and 2009.
As the proprietor of Cold Ashby Golf Club in Northamptonshire, David was a huge advocate for greenkeeper training and education. 
When the Government announced the Trailblazer Apprenticeship reforms in 2013, with David's passion for greenkeeper education and being a golf club owner, he was the ideal candidate to take the role of Trailblazer Chairman.  With his guidance and determination, the GTC have been able to build an excellent Apprenticeship programme from Level 2 to Level 5.
Alistair Booth, GTC's Chairman says 'David was one of the leading figures in the Golf Industry, much respected and admired for his sincerity, wisdom and knowledge. His contribution to the work of GTC cannot be under estimated and we are so grateful and appreciative of all that he did for this organisation. He indeed will be greatly missed.'
Fiona Lyttle, GTC Manager says 'David was a true gentleman, one of golf's finest ambassadors and above all a fantastic supporter of greenkeeper education.  We certainly would not be in the position we are today, with three fantastic apprenticeship programmes, without the support and guidance from David.  He will be sadly missed.'
Our thoughts are with his family at this sad time.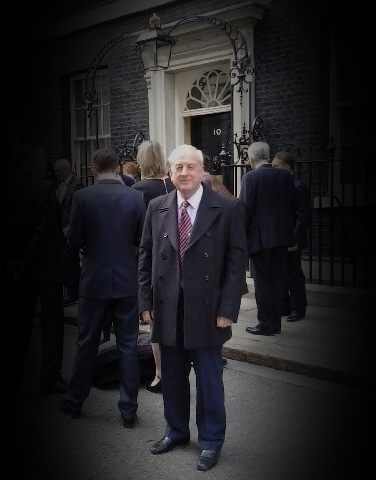 David Croxton's first official appointment as GTC Trailblazer Chairman, at No. 10 Downing Street