FOR IMMEDIATE RELEASE
Media contact:
Karl Hansell
BIGGA
+44 (0)7586 589 369
Press release                                                                    Wednesday 25 January 2023
Golf clubs to become STEM classrooms as BIGGA and GCSAA introduce First Green to the UK
The British & International Golf Greenkeepers Association (BIGGA) and the Golf Course Superintendents Association of America (GCSAA) are collaborating to have BIGGA exclusively present GCSAA's First Green STEM (Science, Technology, Engineering and Mathematics) education programme in the UK.
Founded in 1997, First Green is the only STEM education and environmental outreach programme using golf courses as learning labs.
The First Green curriculum helps students apply their classroom knowledge in an outdoor setting. Using STEM concepts connected to golf course management and conservation, students find new inspiration in their schoolwork and learn about the possibility of a career in golf or a STEM-related field. Since its inception, First Green has reached students in the United States and Canada through learning labs that bring the classroom to life on the golf course. First Green also gives students a first-hand look at the important role greenkeepers (or superintendents as they are known in the US) play in their communities.
As part of the multi-year agreement, GCSAA will provide branding, training, insight and curriculum advice to assist BIGGA with establishing First Green in the UK. The two associations will share best practices and updates to ensure students will be part of programmes offering the best possible experience and learning.
This initiative was announced as part of the 2023 BIGGA Turf Management Exhibition (BTME) in a joint event attended by representatives of GCSAA and BIGGA. Initial planning is underway and a schedule of First Green events presented exclusively in the UK by BIGGA will be available when they are announced at www.bigga.org.uk.
Jim Croxton, BIGGA CEO, said: "First Green is a brilliant tool with all the assets, lesson plans and resources that any golf course needs to host an event. We're thankful to the GCSAA for the incredible work they have done to develop the programme and also for enabling us to bring it to the UK, where I am confident it will be a huge success."
Rhett Evans, GCSAA CEO, said: "STEM education opens the door to a wide variety of career paths including golf-related careers. While our number one goal for First Green is to support the education growth of students, we also contribute to golf's sustainability by showcasing golf facilities' focus on preserving the environment and creating interest in a golf-related career. Over the years we have collaborated on many initiatives with BIGGA and created a strong working relationship. This long-term and successful relationship enabled our two associations to seamlessly bring the GCSAA's First Green programme to the UK."
For more information about First Green in the United States, visit thefirstgreen.org
Notes to editors
The British and International Golf Greenkeepers Association was created in January 1987 due to an amalgamation of the British Golf Greenkeepers Association, The English and International Golf Greenkeepers Association and The Scottish and International Golf Greenkeepers Association.
Today BIGGA has around 5,600 greenkeepers and turf professionals as members. BIGGA is dedicated to the continuing professional development of its members, and in serving their needs will strive through education and training for standards of excellence in golf course management throughout the greenkeeping profession.
For more about BIGGA, you can visit our website and follow us on Twitter.
BIGGA also publishes Greenkeeper International, which can be viewed online here.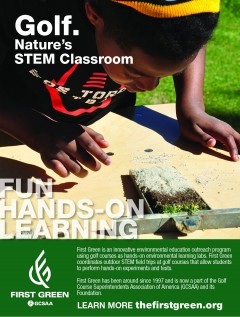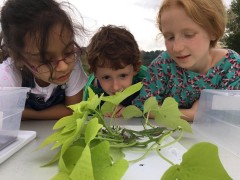 Through golf courses, students are introduced to wildlife and ecology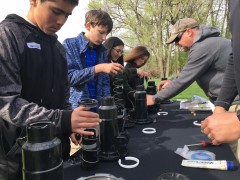 Students learn vital STEM skills in a golf course setting