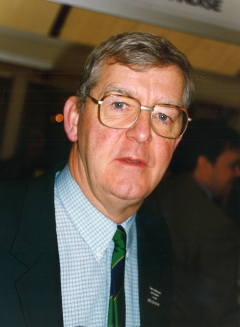 Ken Richardson
Ken Richardson, Former BIGGA Education and Training Manager has sadly passed away.
It is with great sadness The GTC have been informed that Ken Richardson, former Deputy Chief Executive of BIGGA, past away on Saturday 13 January 2018.
Ken had been BIGGA's Education and Training Manager for 13 years and during that time, had sat on the GTC's Technical Committee and worked closely with us on many educational projects.
Greenkeeper education and training became his passion after retiring from the Royal Air Force.  The hard work both he and Sami Strutt, Head of Member Development, BIGGA, dedicated to greenkeeper education is evident in the Continue to Learn programme at BTME and how it has, and is, continuing to grow from strength to strength.
Fiona Lyttle, GTC Manager says, "Ken was a true gentleman, great character and friend to many greenkeepers.  He was a great ambassador to greenkeeper training and education".
"Ken will be sadly missed by all who know him and our thoughts are with his wife Sandra and family."
Fiona Lyttle
GTC Manager