FOR IMMEDIATE RELEASE
Media contact:
Karl Hansell
BIGGA
+44 (0)7586 589 369
Press release                                                                                Friday 13 January 2023
Leading international exhibition for sports turf professionals helps create wildlife habitat at Harrogate Golf Club with the planting of a new 'community woodland'
Staff from the British & International Golf Greenkeepers Association joined the greenkeepers and members at Harrogate Golf Club recently to plant a 'community woodland', comprising more than 200 trees donated by exhibitors at the upcoming BIGGA Turf Management Exhibition (BTME).
BTME is due to take place at the Harrogate Convention Centre from 24 to 26 January and is recognised as among the most influential events on the UK golfing calendar, with more than 5,000 golf greenkeepers and turf professionals in attendance.
High on the agenda each year is sustainability and the increasing importance of environmentally friendly practices on golf courses, particularly with the annual Golf Environment Awards taking place in Harrogate concurrent to the trade show.
Overall, British golf courses cover an area roughly equivalent to the whole of Greater Manchester and provide wide-ranging habitats including wetlands, wildflower areas and woodland. Countless forward-thinking golf clubs around the UK are now undertaking activities that boost their environmental credentials and the team at BIGGA, as the UK's only membership association for golf greenkeepers, wanted to do their bit.
When booking their spot at the 2023 exhibition, supporting companies were invited to 'Plant a Tree for BTME' and it is hoped that over the years sufficient trees will be planted to create a network of 'BTME community woodlands' around the UK, with Harrogate Golf Club the first to participate in the scheme.
BIGGA is extremely grateful to those exhibitors who have participated in the scheme, with Reesink UK purchasing 100 trees, Aquatrols purchasing 50 and The FairWays Foundation purchasing 20. Other contributors included: Advance Grass Solutions; Bernhard and Company; Campey Turf Care Systems; COMPO Expert; East Riding Turfcare; EVEN Products; GreenBest/Velvit; LFP Civil & Environmental Engineering; Redlynch Leisure; Shelton Sportsturf Drainage; and The Double A Trading Company.
James Hutchinson is Membership Services Manager – Ecology & Sustainability at BIGGA and is considered one of the UK's leading authorities on golf course ecology. James said: "Plant a Tree for BTME is a wonderful scheme and I'm delighted that so many exhibitors purchased saplings, which we have planted at Harrogate Golf Club. This is such a brilliant idea because trees sequestrate carbon in the soil, meaning we are able to offset some of the carbon that is generated at BTME.
"Not only that, but trees create wonderful habitats for the great British wildlife. Golf clubs are often overlooked by the general public, but they provide priceless habitats for countless species, often forming safe zones for wildlife to thrive in urban areas. Harrogate Golf Club is a fantastic example and the addition of these silver birch, downy birch, rowan and cherry trees will create outstanding habitats for years to come."
Ken Ward is Head Greenkeeper at Harrogate Golf Club and said: "I was thrilled when James asked us if we would like to take part in the Plant a Tree for BTME scheme. We are very much about ecology and sustainability at Harrogate GC and creating new wildlife habitat by planting trees is very much in line with the ethos of the club.
"Harrogate Golf Club is hugely appreciative of BIGGA and all the exhibitors who contributed to this scheme as it is such a worthwhile cause, not only for us but also for our kids, grandchildren and future generations."
Lauren Frazer, Head of Business Development at BIGGA, said: "We're committed to making Plant a Tree for BTME a fixture on the BTME calendar and I'm hopeful that next year we'll be planting even more trees at another brilliant golf club and once again highlighting the vital work golf greenkeepers do to support the wider environment.
"Thank you to all of those who contributed to this wonderful scheme and I'm really looking to seeing all our exhibitors and the attendees at BTME in just a few short weeks."
For more information about BTME 2023, head to www.btme.org.uk
Notes to editors
The British and International Golf Greenkeepers Association was created in January 1987 due to an amalgamation of the British Golf Greenkeepers Association, The English and International Golf Greenkeepers Association and The Scottish and International Golf Greenkeepers Association.
Today BIGGA has around 5,600 greenkeepers and turf professionals as members. BIGGA is dedicated to the continuing professional development of its members, and in serving their needs will strive through education and training for standards of excellence in golf course management throughout the greenkeeping profession.
For more about BIGGA, you can visit our website and follow us on Twitter.
BIGGA also publishes Greenkeeper International, which can be viewed online here.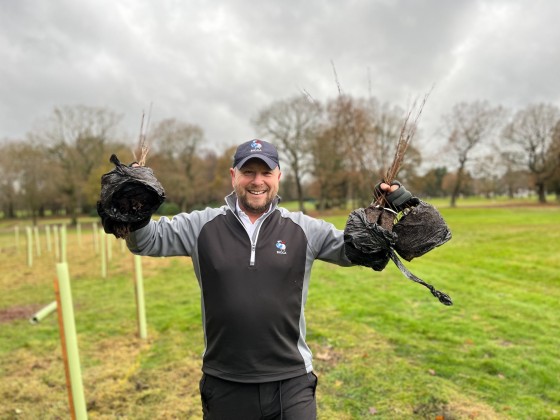 BIGGA's James Hutchinson showcasing some of the saplings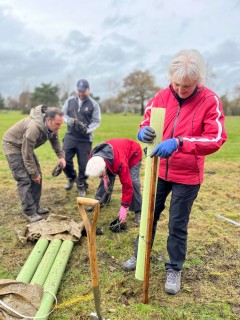 Harrogate Golf Club members join Head Greenkeeper Ken Ward (left) in planting the trees