Registrations coming in fast for the next CMAE Management Development Program
 
In 2017 Wales Golf in partnership with the Club Managers Association of Europe delivered the First Management Development Program - Level 1. The course was attended by 24 delegates, 9 of which were Welsh managers, secretaries and PGA professionals all looking to develop their knowledge and understanding of 10 core competencies that included:
Club governance, Food & Beverage, Accounting & financial management, HR, strategy and leadership, professional development, interpersonal skills, golf management, facilities management  and compliance.
Whether you are a student leaving university, seeking a career in club management,an established business manager seeking a new challenge in the club industry or simply want to improve your knowledge as well as learning how you can develop your club, the CMAE Management Development Programme is for you.
Whats the cost of MDP 1?
The total cost of the MDP 1 program is £1450 (non members of CMAE) or £1300 (Members of CMAE) 
 What do you get?  
Week long residential course 
World class speakers focused on the 10 core competencies
All course materials including CMAE file
4 nights accommodation including breakfast, lunch and refreshments each day
Opportunity to network and learn from others in the industry
Access to the CMAA World Conference held in America each year
Ongoing support and guidance following the weeks education
Register your interest today
If you are interested in attending the MDP program in 2018 please emailStuart.Finlay@walesgolf.org with your name, email, contact number, current role.
When we have enough interest in the course we will then look to set a date for late 2018 or early 2019.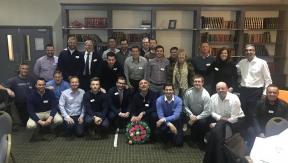 Don't just take our word for it - Here are what the Welsh delegates said about MDP 1.


'For me it was a great foundation course to prepare me for my new role.  I have plenty of experience in golf but lacked the confidence and knowledge to take on the manager role.  I feel this course is really good platform to give an understanding of the responsibilities and best practices.' Darran Clarke, Aberdare GC.

 "The course is superbly delivered by experienced and knowledgeable presenters who make the sessions fun and engaging. I would strongly recommend it to anyone pursuing a career in Club management." John Edwards, Royal Porthcawl GC.