FOR IMMEDIATE RELEASE
Media contact:
Karl Hansell
BIGGA
+44 (0)7586 589 369
Press release                                                                    Friday 16 December 2022
Trentham course manager appointed chairperson of Greenkeeping Trailblazer Group, helping shape education for sports turf professionals in the UK
The Greenkeepers Training Committee (GTC) has revealed that Trentham Golf Club's course manager, Ed Stant, has been appointed chairperson of the group that works to produce and administer formal educational opportunities for greenkeepers in the UK.
The appointment was made following The Richmond Golf Club Course Manager Les Howkins MG's decision to step down as chairperson of the Greenkeeping Trailblazer Group following an incredibly-successful tenure.
Trailblazer groups are responsible for developing a new apprenticeship for an occupation and then revising the apprenticeship as needed. Since becoming chairperson in 2021, Les has steered the group expertly, navigating the collaboration with the Sports Turf Trailblazer Group to develop the Level 3 Advanced Sports Turf Technician apprenticeship, which was approved by the Institute for Apprenticeships and Technical Education (IfATE) in October 2022.
No sooner had the new Level 3 apprenticeship been approved than Les began leading the group to review the Level 2 Golf Greenkeeper apprenticeship. Great strides have been made so far and this work will continue under the leadership of Ed, who will step up from the vice chairperson role. Gavin Sowden, environment and health & safety officer at Woburn Golf Club, will become vice chairperson. Both will move into office at The GTC-BIGGA standardisation meeting for training providers, being held in Harrogate during BTME in January.
Les Howkins MG, outgoing chairperson of the Golf Greenkeeping Trailblazer Group, said: "After two years as the Trailblazer chairperson, I am pleased to announce that Ed Stant will be taking over as chairperson in January 2023. Ed has been an excellent deputy for several years and has proved to have a very strong understanding of the role and the apprenticeship scheme. I am sure Ed will fulfil the role with honour and pride and ensure the greenkeeping apprenticeships remain world leading and fit for purpose for many years to come.
"Stepping into the deputy role is Gavin Sowden. With the full support and backing of Woburn Golf Club, I have no doubt Gavin will form a strong partnership with Ed and together the greenkeeping apprenticeship will go from strength to strength.
"I have enjoyed my years as Trailblazer chairperson and I must thank The GTC's Fiona Lyttle for all her hard work and dedication to the scheme. Without Fiona, none of what we have achieved would have been possible."
Ed Stant said: "I am delighted to accept the position of Trailblazer chairperson, taking over from Les Howkins MG, who has done a fantastic job over the past few years. Apprenticeships are such a vital route into our profession and often the building blocks for many young people entering the world of greenkeeping. I hope I can do the position proud and offer BIGGA and The GTC the support and encouragement they need. Special thanks goes to Fiona Lyttle at The GTC, who works so tirelessly for greenkeeping."
Gavin Sowden said: "It is an honour to accept this appointment and be involved with the Greenkeeping Trailblazer Group. Having been in the industry for over 30 years and working closely with numerous apprentices starting their working lives as greenkeepers, I understand the importance of ensuring we have the correct education programme in place for our future golf course greenkeepers and course managers."
Fiona Lyttle, BIGGA learning & development executive (The GTC), said: "It has been a honour and a privilege to work with Les over the last few years. His wealth of knowledge and determination to ensure greenkeeping apprentices are at the forefront of greenkeeper education is second to none. He has taught me a lot and hopefully I can now impart some of that knowledge further to continue the work of the Trailblazer group.
"We are delighted to appoint Ed and Gavin as the new Trailblazer chairperson and vice chairperson respectively. Being active employers and advocates for greenkeeping education, the Trailblazer group and I are looking forward to working with them to maintain the level of apprenticeships our employers have become accustomed to and to ensure they have quality golf facilities for their members to enjoy."
The Greenkeeping Trailblazer Group and Trailblazer Apprenticeship programme is supported by golf facilities and governing bodies including England Golf, BIGGA, The Richmond Golf Club, Trentham Golf Club, Woburn Golf Club, Frilford Heath Golf Club, Gaudet Luce Golf Club, Leyland Golf Club, Portmore Golf Park, Royal Birkdale Golf Club, Sunningdale Golf Club, The London Golf Club.
For more information on the Greenkeeping Trailblazer Group, contact The GTC's Fiona Lyttle on (01347) 838 640 or fiona@the-gtc.co.uk
Notes to editors
The Greenkeepers Training Committee is the independent organisation representing British golf club employers and greenkeepers through a Board of Directors, advisory groups and a fully-time employee.
Golf greenkeepers play a vital role in golf course maintenance and management and golf greenkeeping is a rewarding career in the great outdoors. The GTC was set up as the industry body to promote the career of greenkeeping in England, Scotland and Wales through the provision of quality education and training.
A golf greenkeeper is responsible for the maintenance, care and overall appearance of a golf course. It is their job to ensure that the golf club provides a good quality playing survace for its members. The GTC has, in consultation with golf club employers and training providers, developed quality training courses and apprenticeships that the golf industry requires if it is to prosper and thrive.
For more information visit www.the-gtc.co.uk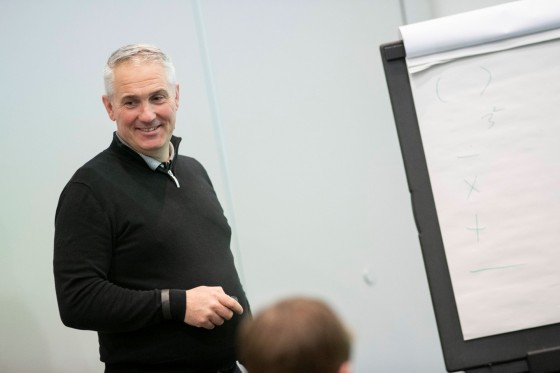 Les Howkins MG is stepping down from his role as Trailblazer chairperson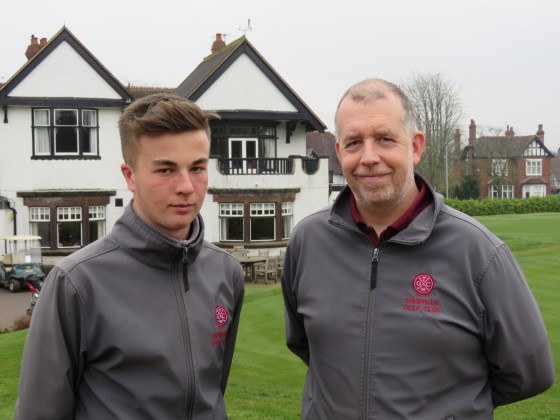 Trentham apprentice Reece Tomalin (left) alongside Ed Stant