FOR IMMEDIATE RELEASE
Media contact:
Karl Hansell
BIGGA
+44 (0)7586 589 369
Press release                                                                    Wednesday 26 October 2022
British greenkeepers selected to represent their industry on a global scale as BIGGA and Bernhard and Company unveil the delegation to the GCSAA's Conference and Trade Show
Following a record-breaking number of applicants, the British & International Golf Greenkeepers Association (BIGGA) and Bernhard and Company are proud to reveal the 10 association members who have been selected to represent the best of British greenkeeping at the world's largest gathering of sports turf professionals in Orlando, Florida next February.
A BIGGA Premium Partner, each year Bernhard and Company invites 10 BIGGA members to attend the Golf Course Superintendent Association of America's (GCSAA) Conference and Trade Show. The BIGGA delegation sponsored by Bernhard and Company is one of the most respected and revered educational opportunities for BIGGA members.
With experiences designed to elevate the careers of those in attendance, the delegation is a week-long educational trip to the coveted GCSAA Trade Show and Conference. The week features site visits to leading golf courses in the region, as well as seminars, networking events and educational demonstrations.
The members selected for the 2023 BIGGA Delegation to the GCSAA Conference and Trade Show are:
Alex Brougham, assistant course manager, Trentham Golf Club
James Bruder, head greenkeeper, Old Course, Walton Heath Golf Club
Michael Budd, course manager, Shirley Park Golf Club
Scott Corrigan, deputy course manager, R&A Lethamhill
David Edmondson, head greenkeeper, Prestwick Golf Club
Andrew Kerr MG, course manager, Surbiton Golf Club
Steven Thomas, deputy head greenkeeper, Prestonfield Golf Club
Brian Toall, course manager, Baberton Golf Club
Jeremy Ward, course manager, Renishaw Park Golf Club
Bradley White, senior greenkeeper, Wentworth Club
The BIGGA Delegation with Bernhard and Company has helped define the careers of some of the most ambitious names within the greenkeeping industry. The delegation is known throughout the industry for building business and social relationships that last a lifetime.
Stefan Carter is head greenkeeper on the West Course at Wentworth Club. He said: "I went to San Diego in 2019 and it was a fantastic opportunity. The delegation really helped me expand my horizons and increase my network. You're with nine other greenkeepers who you can bounce ideas off and share situations.
"At the show you experience the education and you get to look around the show, where they have technology that is unheard of in the UK. You pick up tips and techniques that you bring back home to push the boundaries of what you can achieve."
Steven Nixon, Managing Director of Bernhard and Company, said: "We are once again excited to take the successful applicants on this incredible educational experience. We are passionate about giving back to the industry we love so much and, in collaboration with BIGGA, we are able to offer 10 of its members this potentially career-defining opportunity."
The BIGGA Delegation with Bernhard and Company is just one of countless exclusive opportunities that have been specifically tailored to help BIGGA members achieve their professional ambitions and fulfil the association's overarching ambition of elevating the reputation of greenkeeping in the UK and creating a stronger and more dynamic golfing industry. For more information about BIGGA, head to www.bigga.org.uk
For more information about Bernhard and Company and its products and services, visit www.bernhard.co.uk
Notes to editors
The British and International Golf Greenkeepers Association was created in January 1987 due to an amalgamation of the British Golf Greenkeepers Association, The English and International Golf Greenkeepers Association and The Scottish and International Golf Greenkeepers Association.
Today BIGGA has around 5,600 greenkeepers and turf professionals as members. BIGGA is dedicated to the continuing professional development of its members, and in serving their needs will strive through education and training for standards of excellence in golf course management throughout the greenkeeping profession.
For more about BIGGA, you can visit our website and follow us on Twitter.
BIGGA also publishes Greenkeeper International, which can be viewed online here.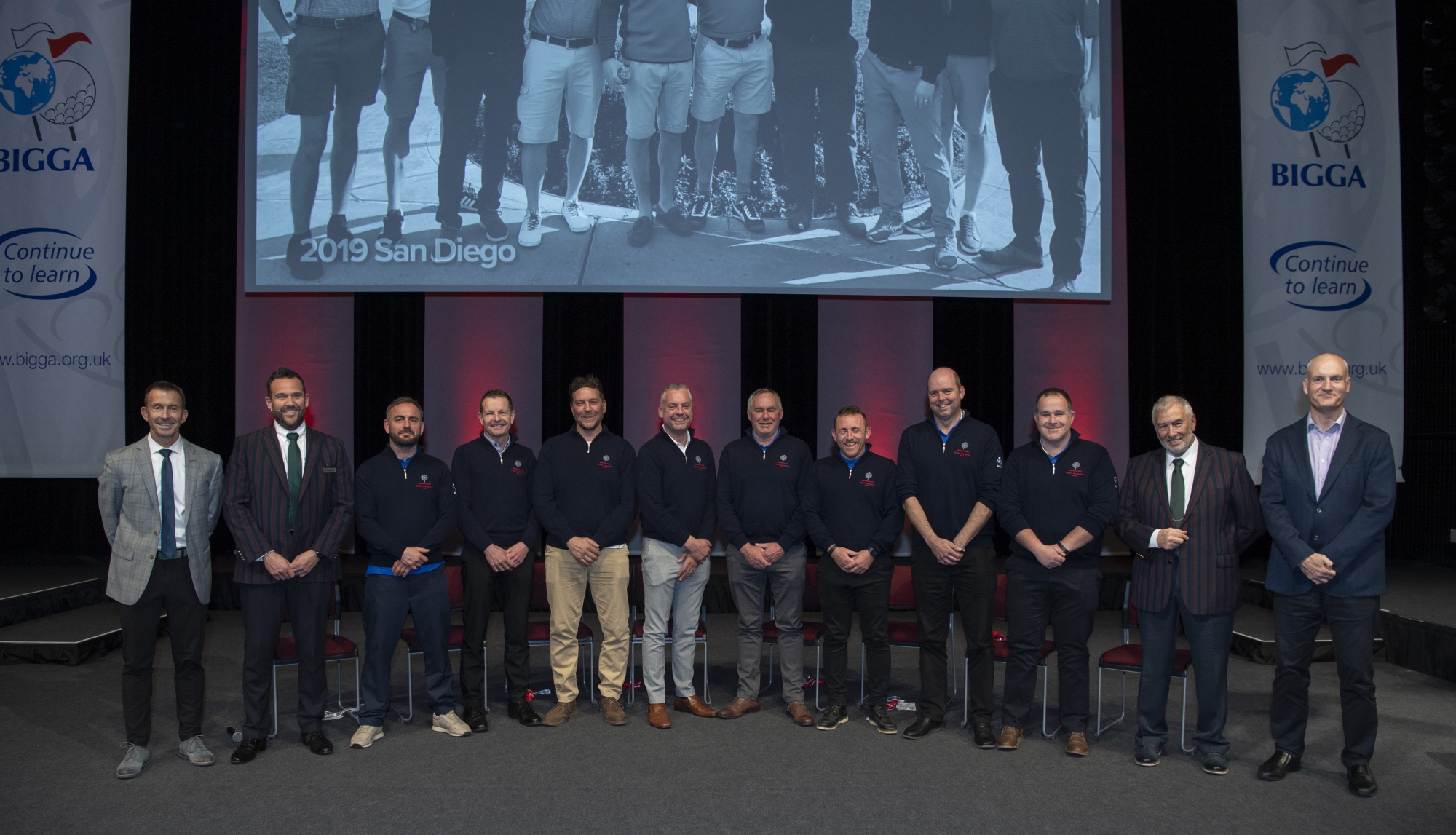 Eight of the 2022 delegates gathered at BTME alongside (far left) the GCSAA's Rhett Evans and Bernhard and Company's Steven Nixon and (far right) Stephen Bernhard and BIGGA's Jim Croxton