GTC Approved Centres please contact the GTC direct for any bulk purchases.
---
NOTE: Prices quoted are inclusive of package and posting for those purchasing within the UK.
Prices may vary for countries outside the UK. Please check on application. Tel: +44 (0)1347 838640
e-mail:golf@the-gtc.co.uk
Below is an image of the Health and Safety Wallchart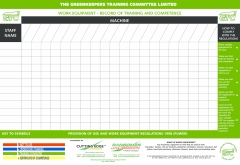 Shop
Training materials
Level 2
Training Poviders Note: if you are registering to deliver 0143-20 (The Certificate in Golf Greenkeeping); contact The GTC directly.
| | | |
| --- | --- | --- |
| GTC Level 2 WBD Greenkeeping Training Manual including Level 2 Learning Materials CD ROM | £ 50 | Add to basket |
| GTC Level 2 WBD Groundsman Training Manual including Level 2 Learning Materials CD ROM | £ 50 | Add to basket |
| GTC Level 2 Greenkeeping Learning Materials CD ROM | £ 30 | Add to basket |
| GTC Level 2 Greenkeeping Learning Materials PDF Version | £ 30 | Add to basket |
Level 3
| | | |
| --- | --- | --- |
| GTC Level 3 Greenkeeping Learning Materials CD ROM | £ 30 | Add to basket |
Other Publications
| | | |
| --- | --- | --- |
| Health and Safety wallchart (Work Equipment and Training Competence - Machines) | £ 15 | Add to basket |
| Health and Safety in Golf Course Management and Maintenance purchased with Health and Safety wallchart | £ 30 | Add to basket |
| Health and Safety in Golf Course Management and Maintenance Booklet | £ 20 | Add to basket |