Download 6: Your guide to who does what in the apprenticeship process. To download more information sheets use this link.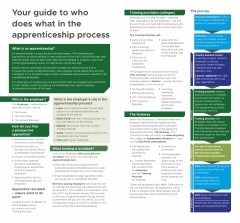 If you're an employer with operations in Scotland, Wales or Northern Ireland, you may also want to contact your apprenticeship authority:
The Greenkeepers Training Committee Trailblazer Apprenticeship
This new apprenticeship Level 2 Certificate in Golf Greenkeeping (0143) has been developed by the GTC in consultation with employers, training providers and the Golf Course Industry.  As a programme of learning and education the certificate is designed to promote a more rounded greenkeeper qualification and incorporates some of the Work Based Diploma Level 3 elements such as soil science, irrigation and drainage.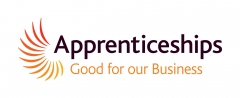 The employer through negotiation with the chosen training provider will decide on how the training is to be delivered. This can be a mixture of on-site training and part time study at college. The level 2 qualification will take between 18 - 24 months although it can be obtained in a minimum of 15 months; the candidate has to go through the full seasonal year. The process starts with registering with a training provider and the employer negotiates the package and delivery to suit. 
Employers, Course Managers, Turf Tutors from GTC Quality Assured Training Providers continue to be involved as the apprentice moves through their apprenticeship to help build their evidence portfolio. When the apprentice is ready they will take an on line test, provide a trainee statement and have a practical end-point assessment.  The end-point assessment will be carried out by an independent assessor who will visit the golf course on an agreed date for the apprentice to go on a course walk and be assessed on selected tasks.
Two futher Standards at Level 3 and Level 5  for the jobs/occupations beyond Golf Greenkeeper have been approved by Government.  The materials for these new levels are being developed this year by the GTC. The standards can be downloaded using the links opposite.
What is an apprenticeship?
An apprenticeship is a genuine job with paid wages.  The greenkeeping apprentice can be an existing or new employee at the Golf Club and through their apprenticeship they will gain wider skills and knowledge to progress within their chosen greenkeeping career.  The apprentice must spend at least 20% of their time on off-the-job training - this training must be provided by a Training Provider and be directly relevant to the Certificate in Golf Greenkeeping, which is expected to take between 18 and 24 months.
Employing an apprentice is very simple. The National Apprenticeship Service can provide all the information you need to know in order to employ an apprentice.
GTC Handout Downloads
Head to the 'Information Sheets to     Download' page to print off guides about apprenticeships, funding and other useful information.
The GTC is working on developing assessment plans with its Technical Group for the Apprenticeship Standards Level 3 and Level 5:
Download 12: Level 3 Advanced Golf Greenkeeper Apprenticeship Standard
Download 13: Level 5 Golf Course Manager Apprenticeship Standard