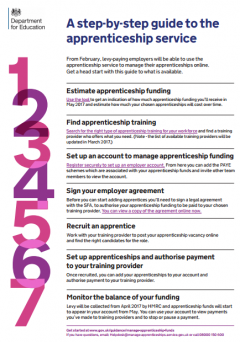 The Levy
The way the Government funds apprenticeships in England has changed. Download 5 is a GTC handout which explains these changes. To download more information sheets regarding apprenticeships and funding please use this link.
If you're an employer with operations in Scotland, Wales or Northern Ireland, you may also want to contact your apprenticeship authority:
Apprenticeships policy and funding changes 2018/19 – What you really need to know
City and Guilds recently hosted a webinar explaining the new apprenticeship policy and funding changes for this year.
Please use the following links to find out more:
Registration for the apprenticeship service
Registration for the apprenticeship service is now open to all levy-paying employers. This builds on the previously released parts of the service, such as the estimate my funding tool and Find Apprenticeship training, and will allow levy paying employers to register for an account so they can:
 -         create an account
-          add organisations (if their organisation is connected)
-          link their PAYE schemes
-          invite members of their team to use the service
If you have any questions about your account, you can:
From 6 April 2017, employers operating in the UK, who have an annual paybill over £3 million are required to invest in apprenticeships and contribute to the new apprenticeship levy.  This guidance is for all employers operating in the UK, whether you pay the apprenticeship levy or not.
Employers that

DO NOT

 pay The Levy
The funding for new apprenticeships began after May 2017 with the employer paying 10% and the government paying 90%.  This is called Co-investment.  From 1st April 2019 the rate of co-investment will be reduced to 5% for all new apprenticeship starts, with government funding of 95% provided to cover the remaining costs.
Non-Levy paying employers will not be allocated funds through the Digital Apprenticeship Service as the government will pay the co-investment direct to the training provider. 
The levy will not affect the way you fund training for apprentices who started an apprenticeship programme before 1 May 2017. You'll need to carry on funding training for these apprentices under the terms and conditions that were in place at the time the apprenticeship started.
All employers:  What can you spend apprenticeship funding on?
Funds can be used for:
Funds in your apprenticeship service account, and funding provided by the government through co-investment, can only be used towards the costs of apprenticeship training and end-point assessment. This must be with an approved training provider and approved assessment organisation.
Funds cannot be used for:
Funds can't be used on other costs associated with your apprentices or wider training effort. For example wages, statutory licences to practise, travel and subsidiary costs, managerial or brokerage costs, traineeships, work placement programmes or the costs of setting up an apprenticeship programme. You can find more detail of what can be funded in the 'apprenticeship funding rules'.